Terrorist killings at Iranian parliament and mausoleum of Ayatollah Khomeini bring into focus something Riyadh and Tehran have in common – the stoking of ethnic tensions and proxy wars they use to destabilise each other
"The more that this happens, the less the Saudi-backed separatists win. What the separatists want is the polarisation of views and to incite the regime to attack the [Iranian Arab] community, thereby securing a popular backlash. In recent weeks, they have conducted more murders, mostly of security personnel but also of non-security officials. They want mass arrests and public executions in order to establish themselves as the vanguard of the Ahwazi resistance," said an Iran watcher with close ties to the Iranian Arab community that refers to itself as Ahwazi.
IS, apparently preparing the ground for the attacks, has stepped up its Farsi-language propaganda in recent months. In a video in March, the group called on Iran's Sunni minority to revolt against Iran's Shia-dominated establishment. It also publishes four Farsi-language editions of Rumiyah, an online IS magazine.
Like with the attacks in Tehran, nothing suggests that IS's new found focus on Iran was inspired by Saudi Arabia. Yet, in distancing itself from IS as well as the attacks, Saudi Arabia is likely to struggle with the fact that IS ideology is rooted in the anti-Shiite, anti-Iranian, puritan Sunni Muslim ultra-conservatism propagated by the kingdom – even if it has condemned the group, denounced its world view as deviant, and at times been an IS target. Saudi denials are further muddied by the fluidity of militancy in Pakistan in which the kingdom's footprints are visible.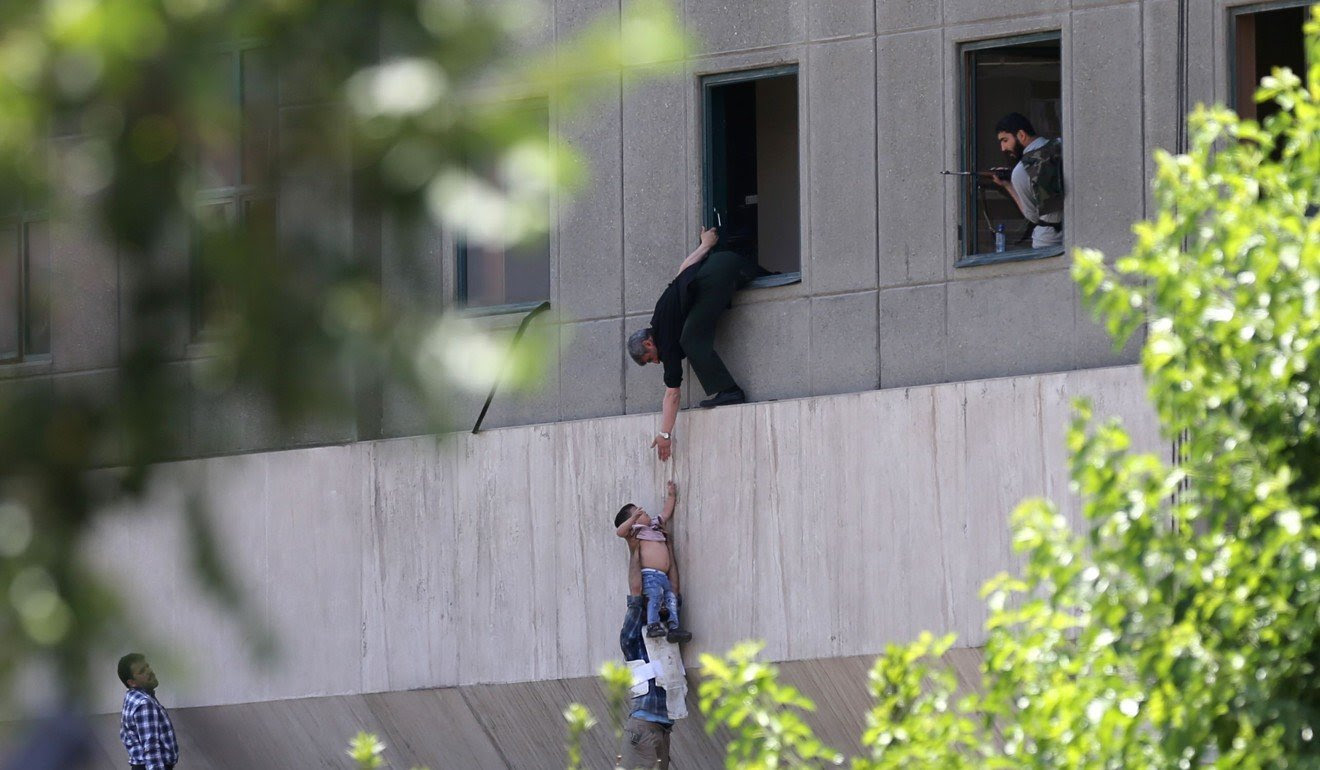 Iranian policemen evacuate a child from the parliament building in Tehran during the attack by Islamic State. Photo: AFP
The US Treasury last month designated a Saudi-backed Pakistani religious scholar from Balochistan, Maulana Ali Muhammad Abu Turab, as a specially designated terrorist.
Putting Saudi Arabia on the spot, the Treasury announced the designation of Abu Turab, a leader of Ahl-i-Hadith, a Saudi-supported Pakistani Wahhabi group, and board member of Pakistan's Saudi-backed Paigham TV, who serves on Pakistan's Council of Islamic Ideology, a government-appointed advisory body of scholars and laymen established to assist in bringing laws in line with the Koran and the example of the Prophet Mohammed, as he was visiting the kingdom and Qatar on the latest of numerous fund raising trips to the Gulf.
Abu Turab, a major fund raiser for militant groups who runs a string of madrassas attended by thousands of students along Balochistan's border with Afghanistan, also heads the Saudi-funded Movement for the Protection of the Two Holy Cities (Tehrike Tahafaz Haramain Sharifain) whose secretary general Maulana Fazlur Rehman Khalil has also been designated by the Treasury.
Abu Turab regularly shows pictures of his frequent public appearances to Saudi diplomats in Islamabad to ensure continued Saudi funding, according to sources close to him.
The Treasury described Abu Turab as a "facilitator…[who]helped…raise money in the Gulf and supported the movement of tens of thousands of dollars from the Gulf to Pakistan."
The Treasury said funds raised by Abu Turab, an Afghan who was granted Pakistani citizenship, financed operations of various groups, including Pakistan's Jama'at ul Dawa al-Koran; Lashkar-e-Taiba, a Pakistani intelligence-backed group that at times has enjoyed support from Saudi Arabia; the Taliban; and Islamic State's South Asian wing.
There is, perhaps surprisingly, a silver lining in all of this: the mirror images potentially offer Saudi Arabia and Iran an opportunity to scale down their confrontation by reducing support for their proxies and granting minorities more equal rights. However, with their horns firmly locked and Iran enraged by Wednesday's attacks, neither Saudi Arabia nor Iran is likely to have the political will to avert an escalation that would only further enflame a Middle East already on fire.
James M. Dorsey is a senior fellow at the S. Rajaratnam School of International Studies and co-director of  the Institute of Fan Culture of the University of Wuerzburg