In an interview, Michael Karam speaks about a new documentary on wine and war in Lebanon.
Michael Karam is a British-born Lebanese wine writer and journalist. He is the author, with the photographer Norbert Schiller, of Wines of Lebanon, which won the Gourmand Award for the Best New World Wine Book in 2005.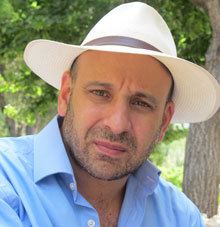 He has also published Arak and Mezze: The Taste of Lebanon and Lebanese Wine: A Complete Guide to Its History and Winemakers.  Karam is the editor of, and a contributor to, the Tears of Bacchus: A History of Wine in the Arab World. He is a regular contributor to Jancis Robinson's Oxford Companion to Wine, The World Atlas of Wine, Hugh Johnson's Pocket Wine Book, and The Sotheby's Wine Encyclopedia. Recently he collaborated on a documentary titled Wine and War, his first film collaboration, which will be released on October 9. In early October Diwan spoke with Karam about the new film, and wine in the Middle East in general.
Michael Young: What prompted you and your colleagues to make a film about wine and war?
Michael Karam: My partners, Mark Johnston and Mark Ryan, had just made The Invisible Front, a film about the Lithuanian Resistance during World War II, and were looking for a new subject. Ryan, who also makes films about wine, had read my book Wines of Lebanon and thought that it could be the basis of a fascinating documentary. The two came to Lebanon in 2013 and interviewed me. A few months later they asked me to collaborate on the writing of the film.
MY: Why tie together wine and war?
MK: It's a compelling title, but it's actually less about wine and war and more about people, specifically the Lebanese entrepreneur, who, over the centuries has honed a remarkable facility for trade, often in quite testing environments. The Phoenicians set up outposts in the Mediterranean basin some 3,500 years ago because there were few opportunities at home. Nothing much has changed in that regard, so we chose to filter this tradition through the prism of the wine industry and conflict, because they are compelling subjects with gripping stories.
MY: Who are the subjects of these stories?
MK: They include the late Serge Hochar of Chateau Musar, whose determination to make and export his wines during the darkest days of the 1975–1990 civil war put Lebanon on the world wine map. They also include the late Michel de Bustros and his French winemaker Yves Morard, who endured the Israeli invasion of 1982 and the aerial dogfights above the vineyards (Yves was eventually taken prisoner by the Israelis and packed off to jail in Tel Aviv), and Jean-Pierre Sara the former owner of Chateau Ksara, who was twice subjected to a mock execution after being abducted while driving to the winery. And then, of course, there are the Sa'adeh brothers who are making wine in the midst of the Syrian civil war.*
The film features, additionally, Naji Boutros of Chateau Belle-Vue, who planted vines in the mountain town of Bhamdoun where 500 of its inhabitants were murdered in 1983; Ramzi Ghosn of Massaya who stayed with his vines during the 2006 summer war between Hezbollah and Israel; and a host of other winery owners who live in the shadow of instability—most recently cast by the presence of the Islamic State group and the Syrian civil war.
We also interviewed wine critics Jancis Robinson and the late Michael Broadbent, New York sommelier Paul Greico, and archaeologists Helene Sader, Patrick McGovern, and Laure Salloum. We even tracked down the author of Eat, Pray, Love, Elizabeth Gilbert, who developed a special relationship with Lebanon after writing a story about Chateau Musar for GQ magazine.
MY: How widespread is winemaking in the Middle East? This is not a subject one often hears about.
MK: The Middle East and the Caucuses are Ground Zero of winemaking, with wine culture spreading southwest from Georgia and Armenia to the Levantine coast. If the Phoenicians had not been intrepid traders, the wine would have stayed on the beach. Happily they were, and, quite literally, were able to give the gift of wine to Carthage, Crete, Greece, Rome, and the Iberian Peninsula.
Sadly, this impressive legacy has not translated into modern fame or fortune. Awareness and relatively low volumes have stopped Middle Eastern wines from going totally mainstream. Other, more familiar, regions have picked up the baton—what is now France only started making wine around 500 BC—leaving the Middle East for dust. Today, wines from Lebanon, along with those from Israel, Turkey, Cyprus, Georgia, and Armenia, are hugely respected. We're very much in the global wine club and not just to make up the numbers.
MY: You have written extensively about Lebanese wine. The country is currently going through what is effectively an economic collapse. How is this affecting the wine industry in the country?
MK: The tragedy is that Lebanon has been hit by the double whammy of domestic inflation and the global Covid-19 pandemic. The initial strategy at the end of 2019, when Lebanon only had one hand tied behind its back, was to redouble export efforts to generate foreign currency revenues, but then the world shut down so even that was no longer an option. But if the message of Wine and War is to hold true, the Lebanese entrepreneur will find ways to survive and adapt. This is the film's essential message.
MY: How difficult, or easy, has it been for Lebanese wine to make its way into international markets?
MK: Given that we only export 4 million bottles annually, we haven't done that bad. Four million may seem like a lot, but the world produces 36 billion bottles every year and Chile sends 100 million bottles to the United Kingdom alone annually. Lebanon is plankton in the wine ocean. That said, we have a great reputation. People will say, "I haven't had any Lebanese wine but hear its very good." This is in main part down to the reputation of Chateau Musar, which is without doubt one of the world's great wines and the fact that we Lebanese make quality wine. We're not cheap—the most affordable wine sells at double what the average U.K. consumer spends on a bottle—but we do offer excellent value. We are no longer an ethnic curiosity with which to wash down a kebab and a bowl of humus.
MY: Other than Lebanon, what Middle Eastern countries are on your radar when it comes to good quality wine? What Arab countries?
MK: Syria probably has the most potential in terms of wine culture and terroir. The Sa'adeh brothers established Domaine Bargylus in 2005 on Jabal 'Ansarieh above Lataqia and it has in a short space of time cultivated a global reputation for both its red and white wines. Elsewhere, in the Palestinian territories, Kurdistan, Jordan, and even Egypt you will find small quantities of drinkable wine being made, but sadly they remain very much on the fringes.
*The last sentence was added in because it had been inadvertently deleted during the edit.